Universal
Extendable
Platform
EXTLAB
The platform
Following the modern requirements for the educational process organization, we have created the Universal Extendable Platform ExtLab. Its constant modernization and improvement allowed us to make the most convenient and user-friendly training equipment that meets all necessary requirements and standards.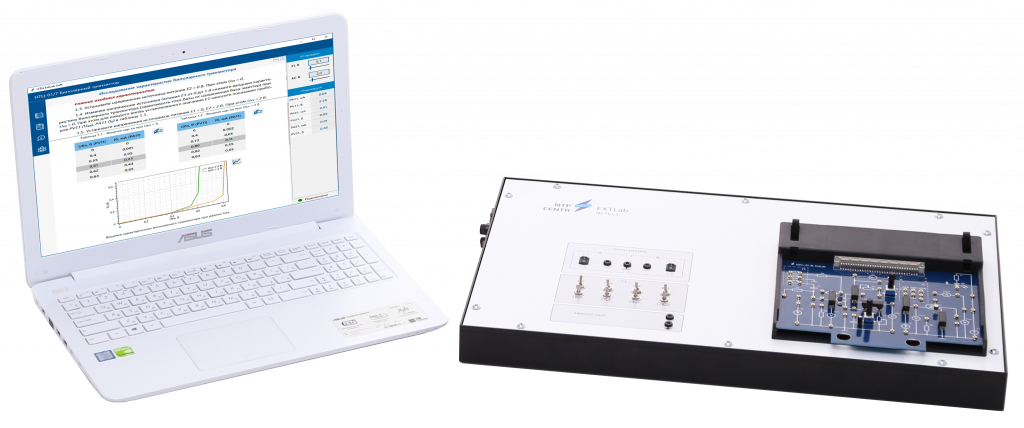 Universal
Various technical experiments on a single unified platform
Ergonomic
Does not require a specially equipped laboratory for installation
Safe
Guaranteed safety and protection during operation
User friendly
The equipment is ready for use without any preparatory steps
Measurements
Integrated digital measuring system connected to a PC via USB bus.
Interactive
Managing the platform, conducting experiments on the PC
Software
Convenient software for studying theory and conducting experiments
Plug-in boards
Special plug-in board kits with automatic recognition
Guidelines
Theoretical base, knowledge check and practical guidelines
In addition to the plug-in boards available for order we can develop it specifically for you, considering your requirements.
NTC-01 ExtLab «Electrical circuits, electrical engineering and basic electronics»
Main electrical engineering laws
Electrical circuits
Transformers
Transistors
Electrical machines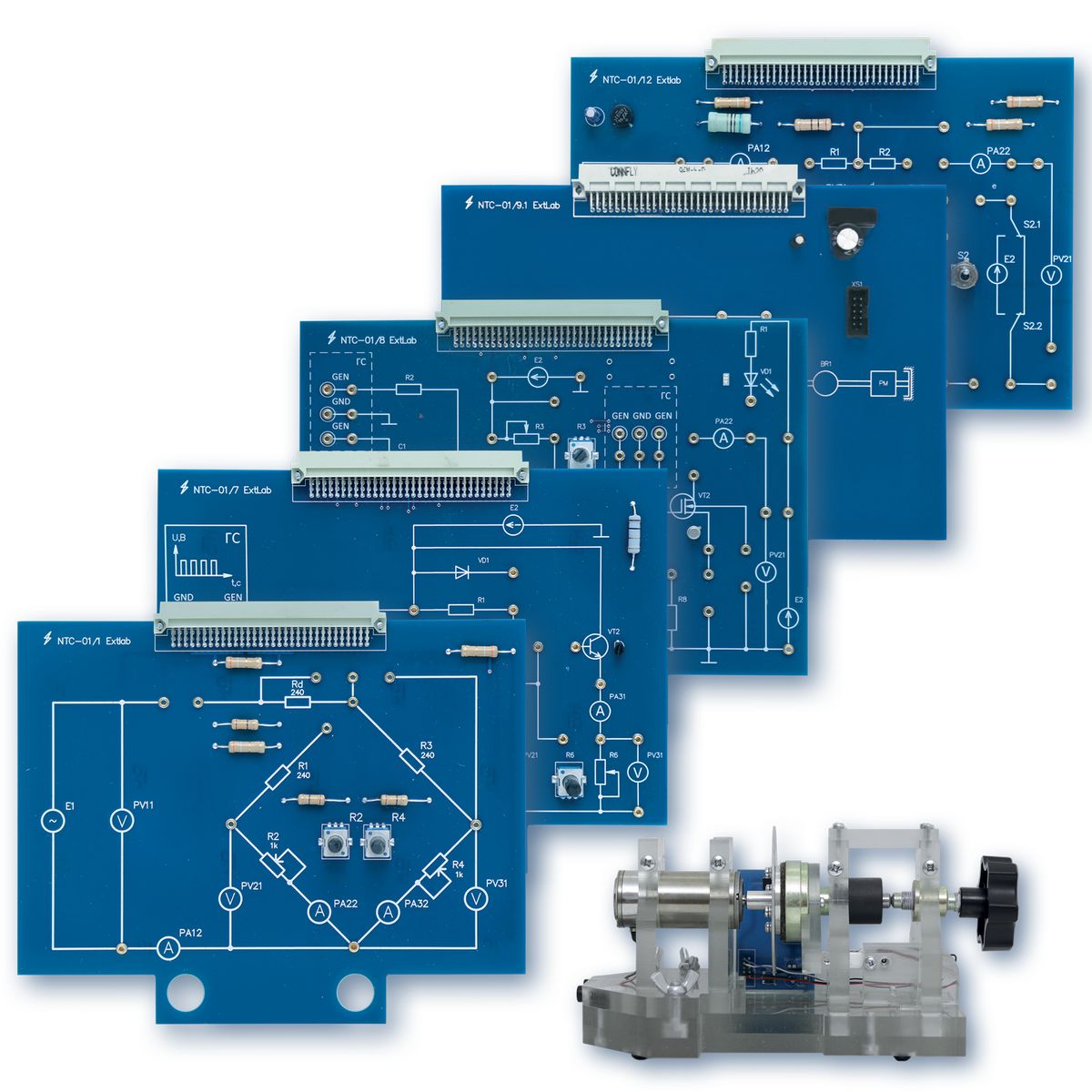 NTC-02 ExtLab «Electronics, circuitry, computer and microprocessor engineering»
Microprocessor
PLDs
Rectifiers
Amplifiers
Generators
ADC/DAC
Circuitry
Logical elements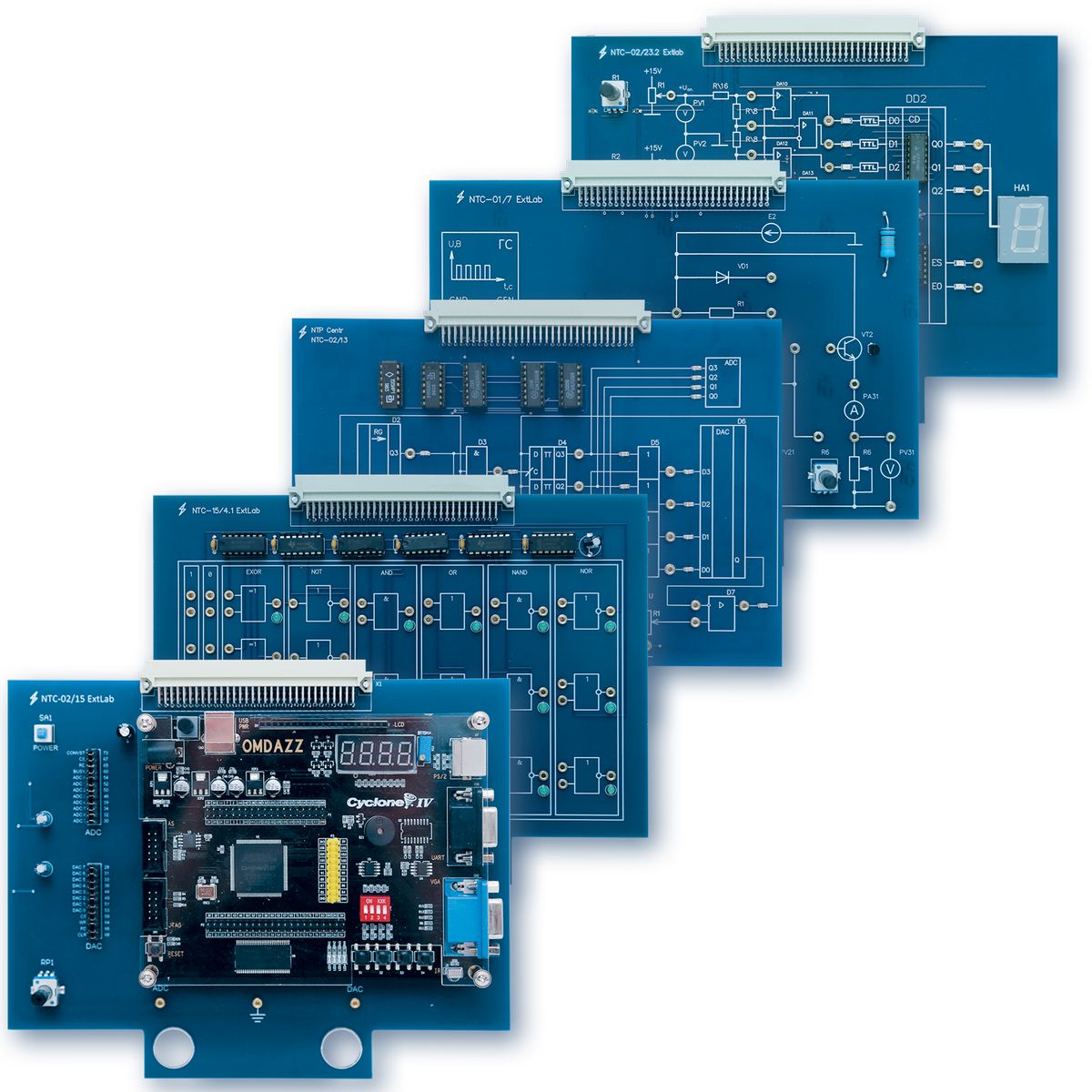 NTC-03 ExtLab «Radio engineering, telecommunications and optic fiber communication»
Amplifiers
Repeaters
Oscillation generators
Modulation
Filters
Transistors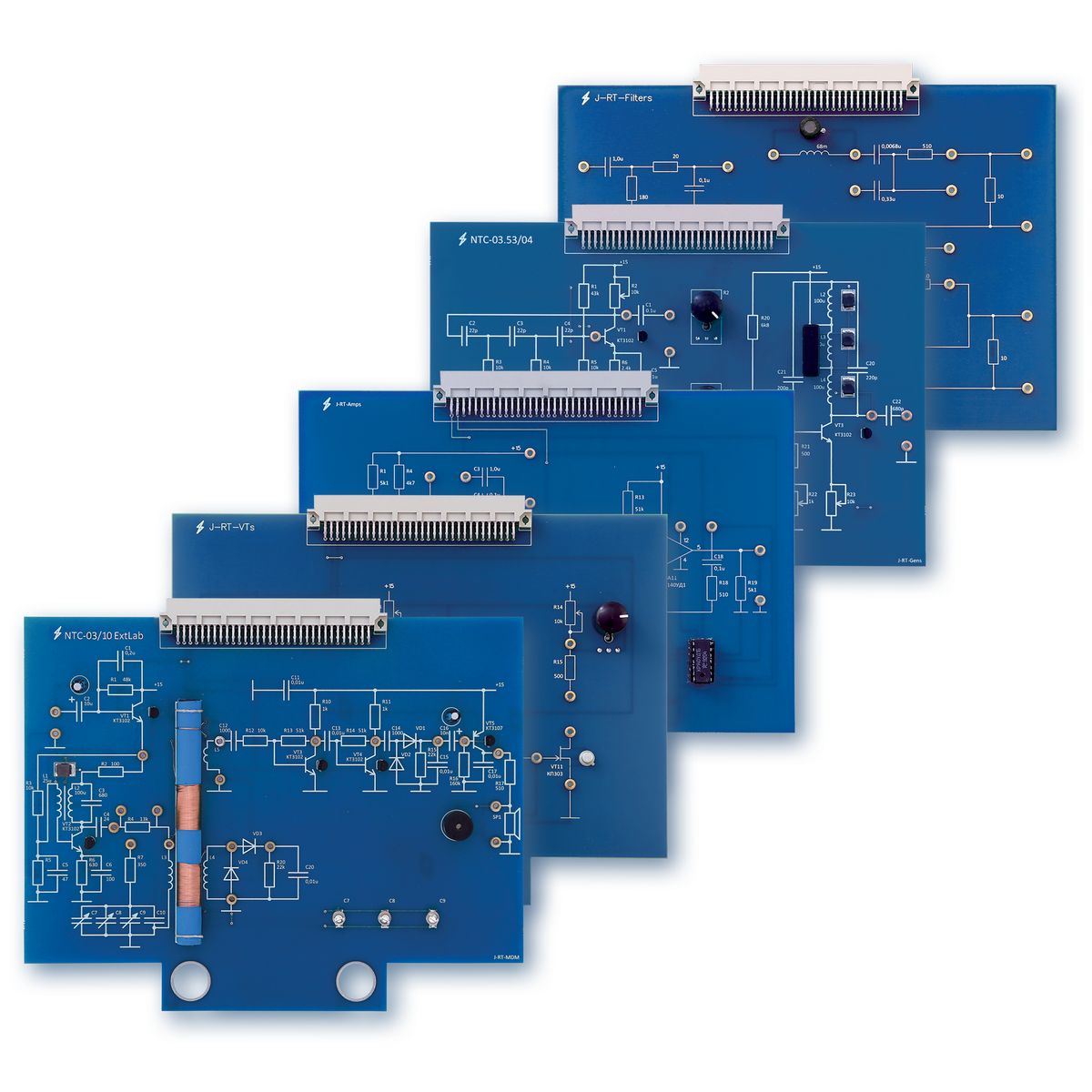 NTC-04 ExtLab «Power and converting equipment»
Rectifiers
Stabilizers
Converters
Transistors
Ferromagnetic materials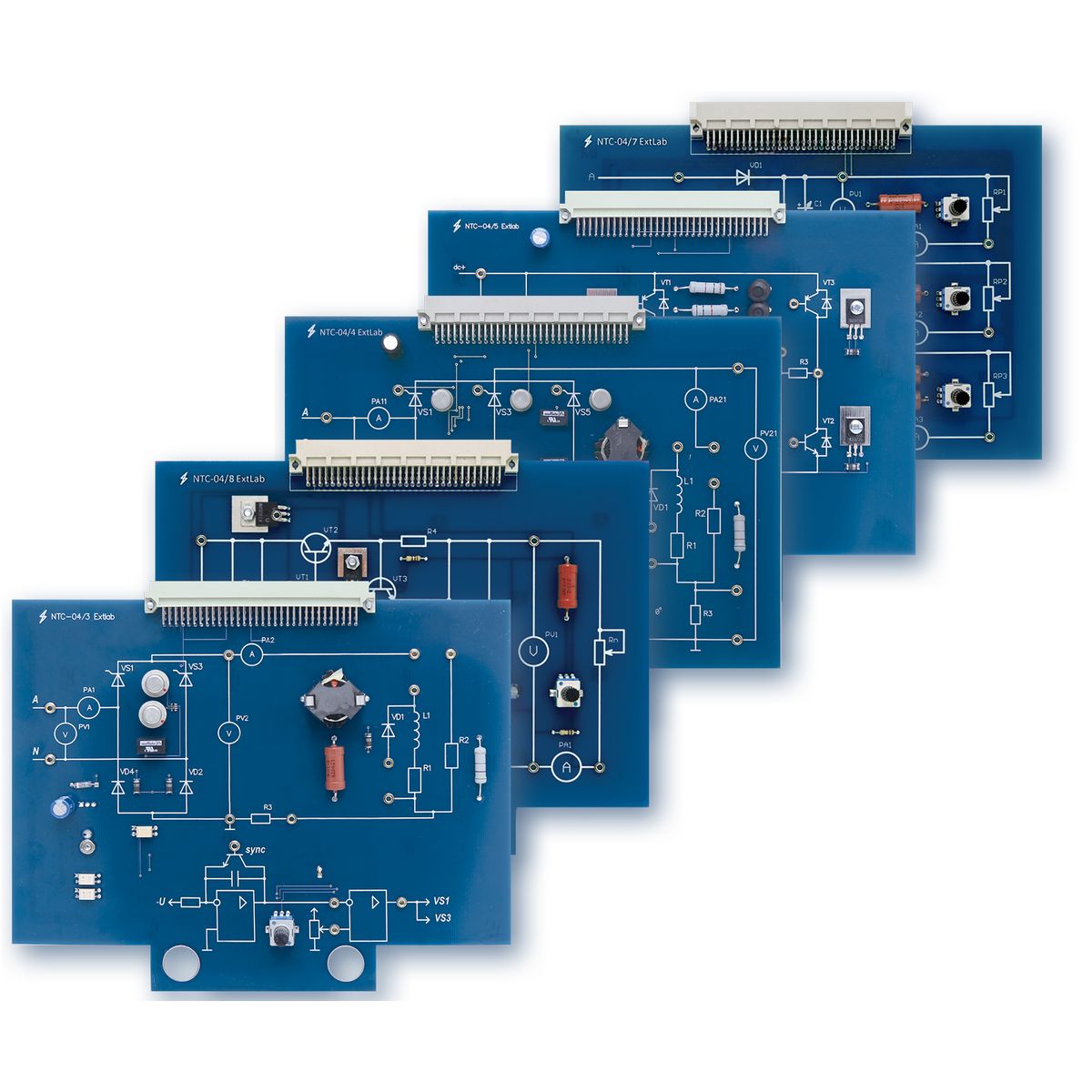 NTC-06 ExtLab «Electrical machinery»
Asynchronous electric motors
DC motors
Synchronous electric motors
Stepper motors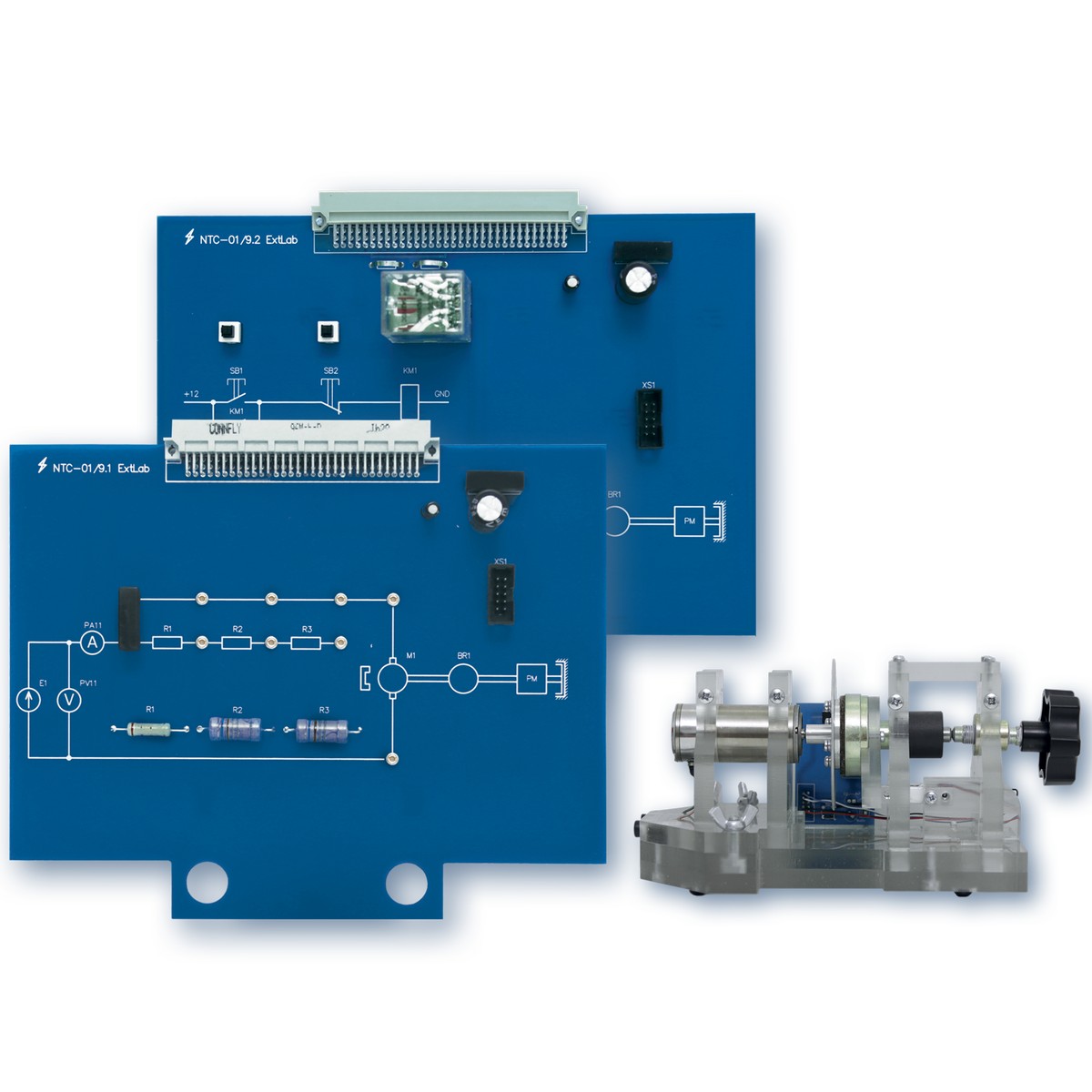 NTC-07 ExtLab «Electric drive and power converting equipment»
Servo drive
Dual loop speed stabilization system PWC-DCM
Frequency converter – asynchronous drive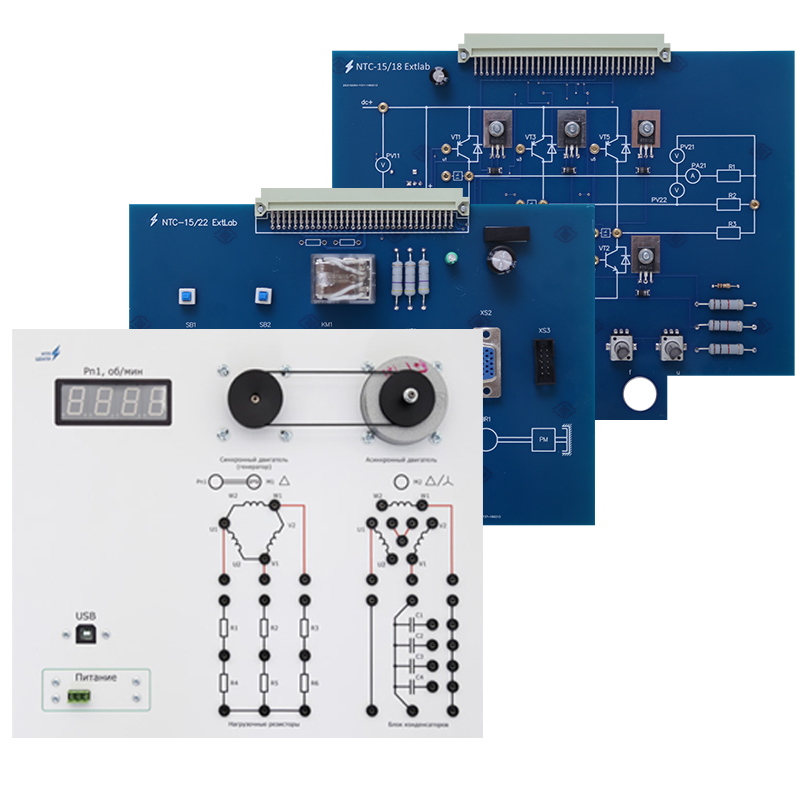 NTC-15 ExtLab «Automotive and tractor electronics»
Analogue\digital electronics
Ignition systems
Sensors
CAN\LIN bus
Security systems
Common Rail injection system
Electric vehicle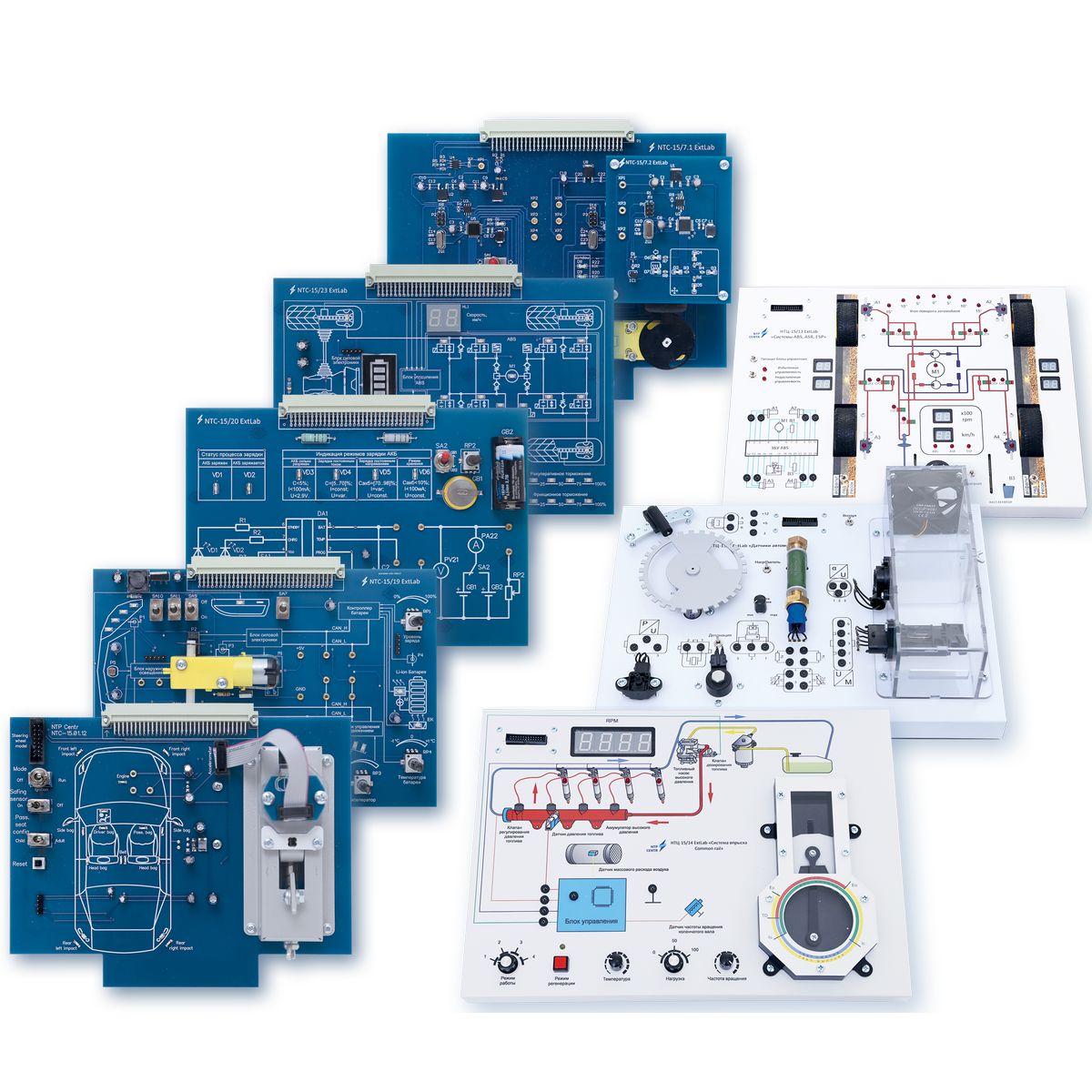 Software
The special software bundle has been developed for every set of ExtLab plug-in boards. The experiments with the plug-in boards could be conducted only in computer-assisted mode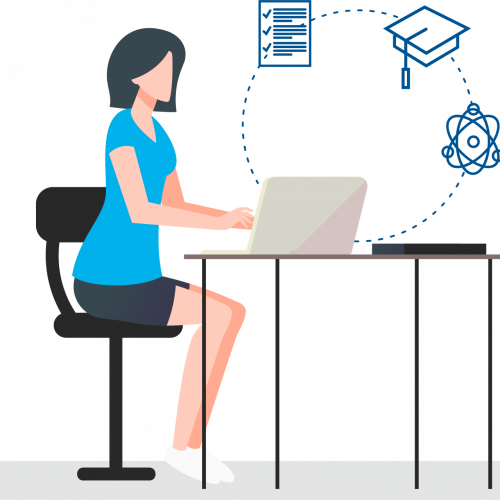 Select the plug-in board
After installing the required plug-in board in the ExtLab socket you must select the number of the corresponding board in the ExtLab application. The software recognizes the plug in board and if it does not correspond to the selected topic, the experiments will be blocked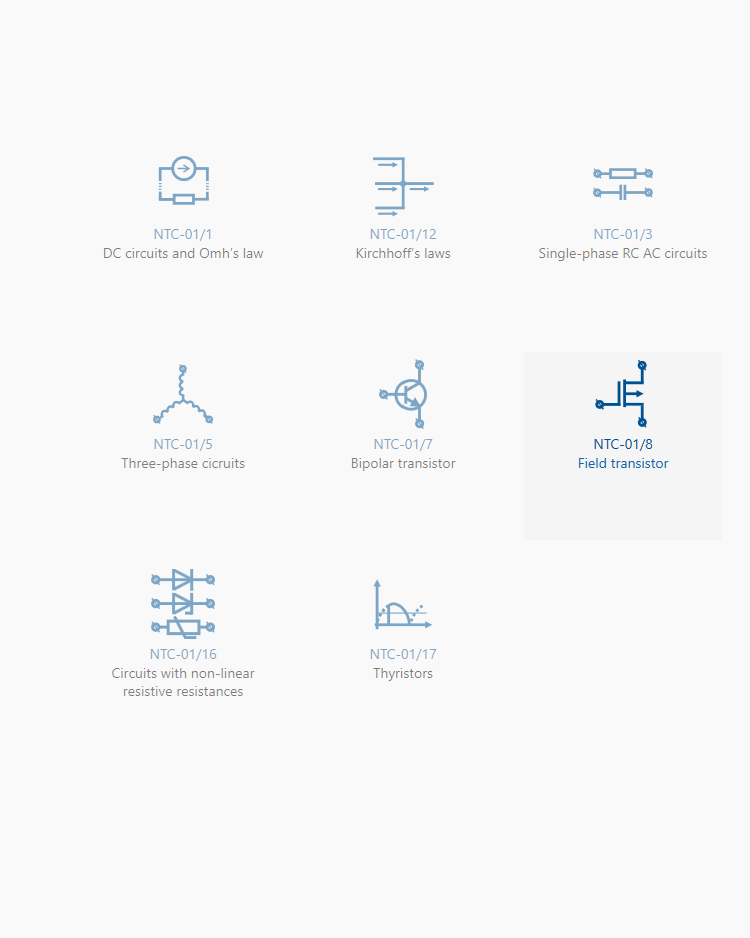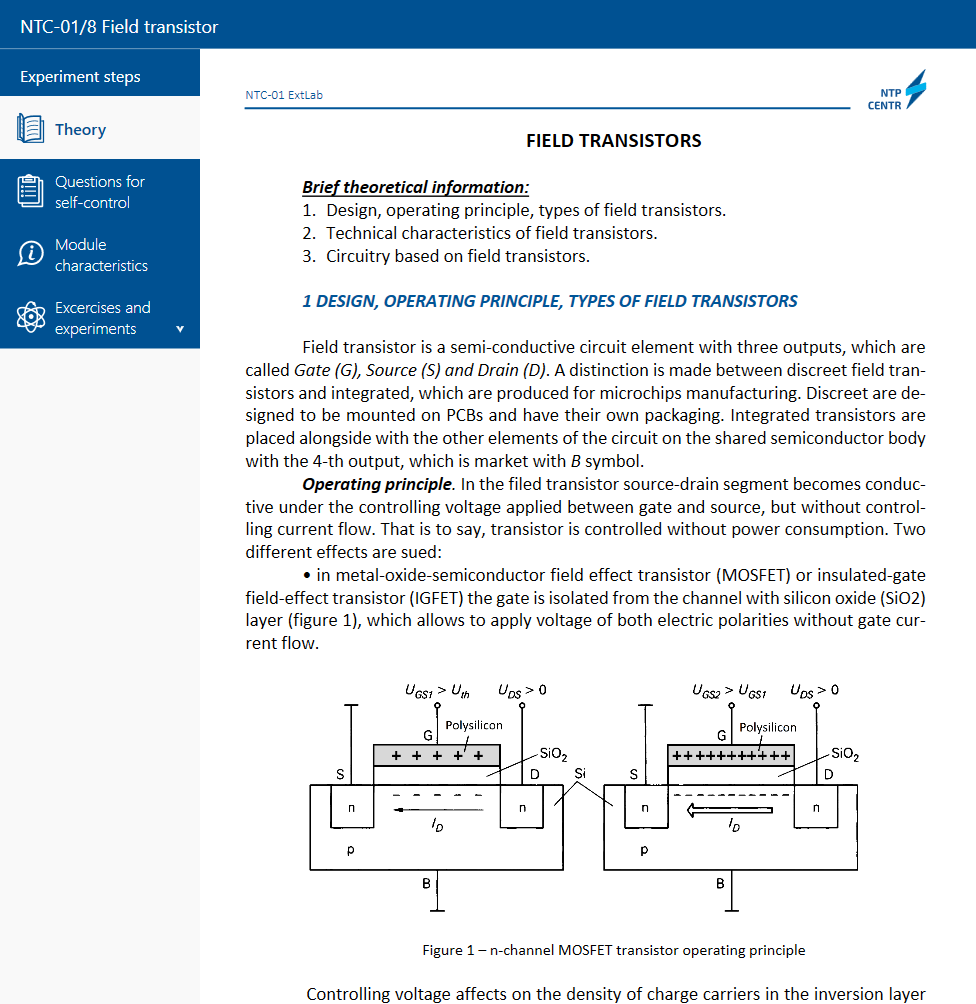 Study the theory
Before the experiment it is necessary to study the theoretical part on the topic corresponding to the plug-in board
Testing
To test knowledge before the experiment it is proposed to perform some tasks. The software provides the ability to edit the test laid down by the developer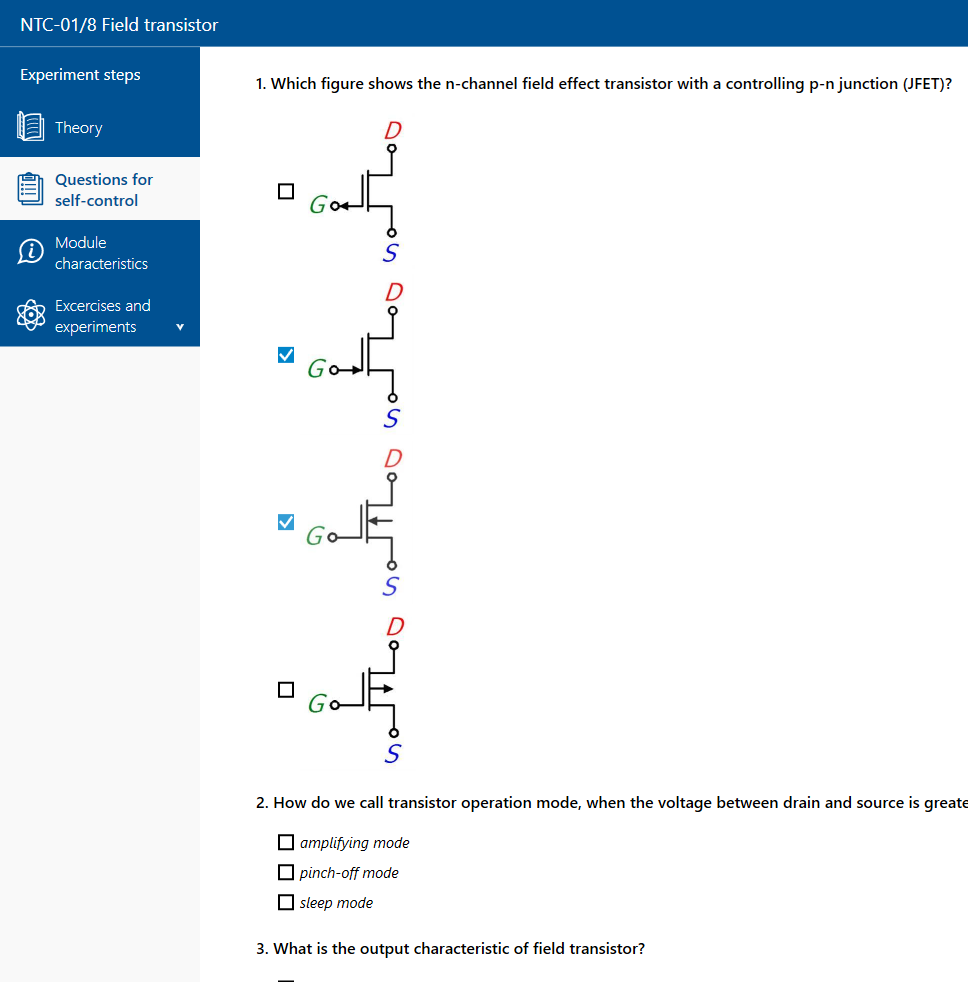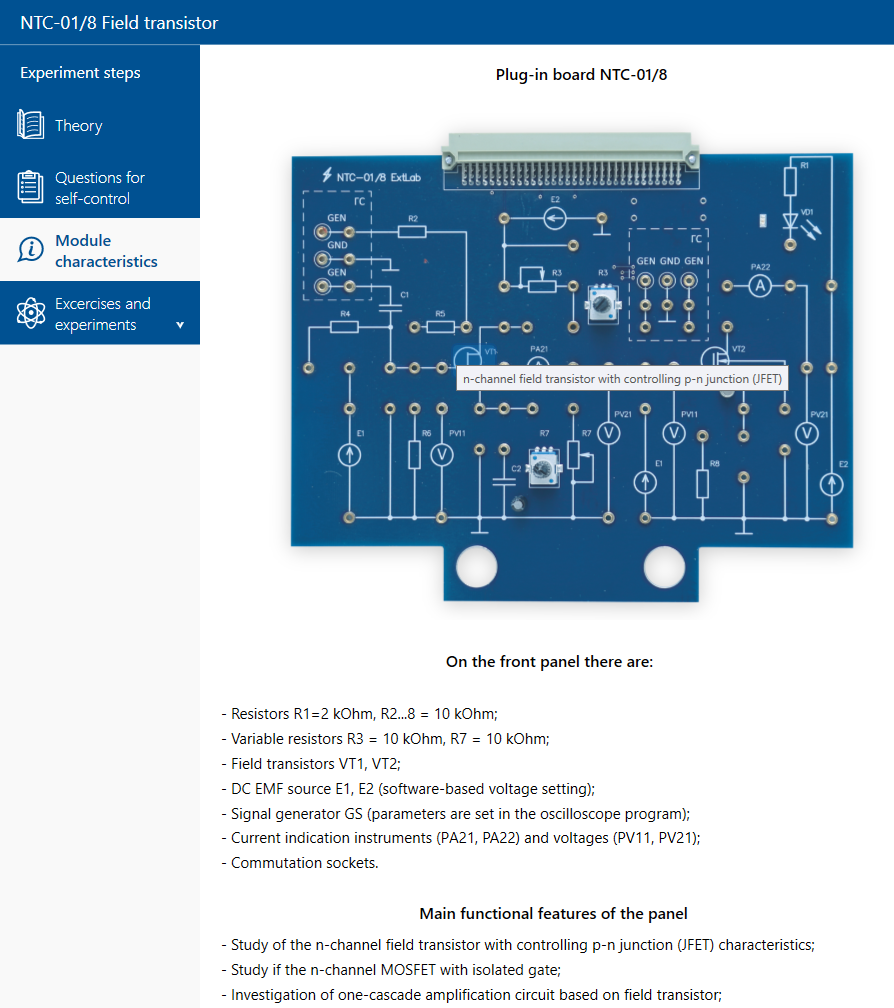 Detailed description
Every plug-in board is described in detail. The student can learn about the main features of every plug-in board available.
Experiment
The software provides detailed instructions for performing each of the proposed experiments. For some plug-in boards, the theoretical part is supplemented by explanatory animated videos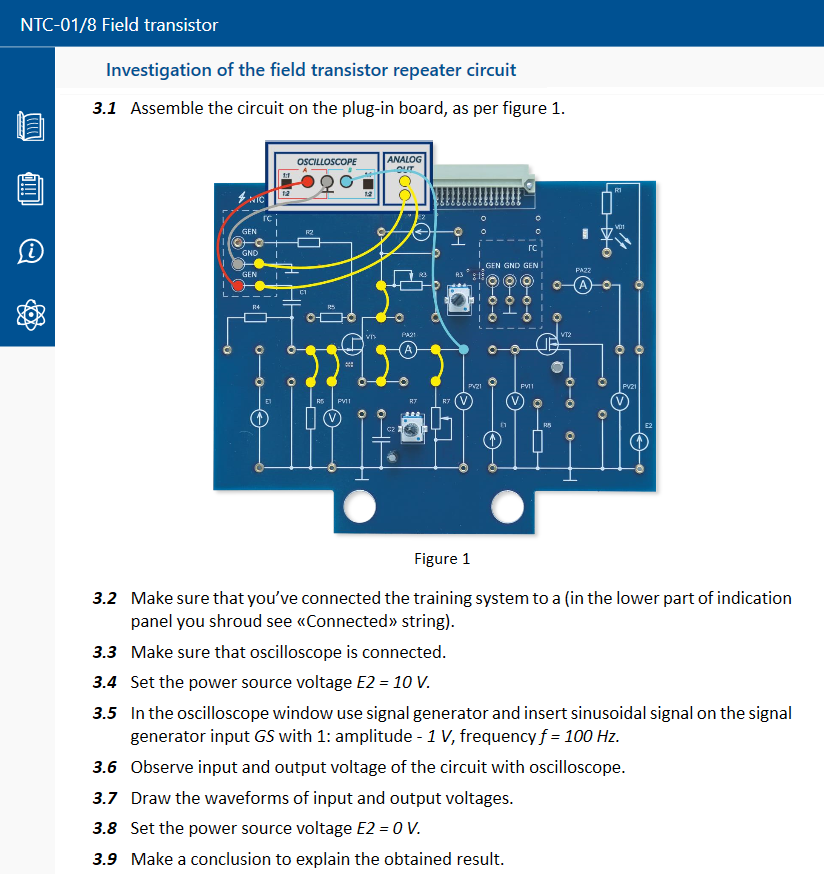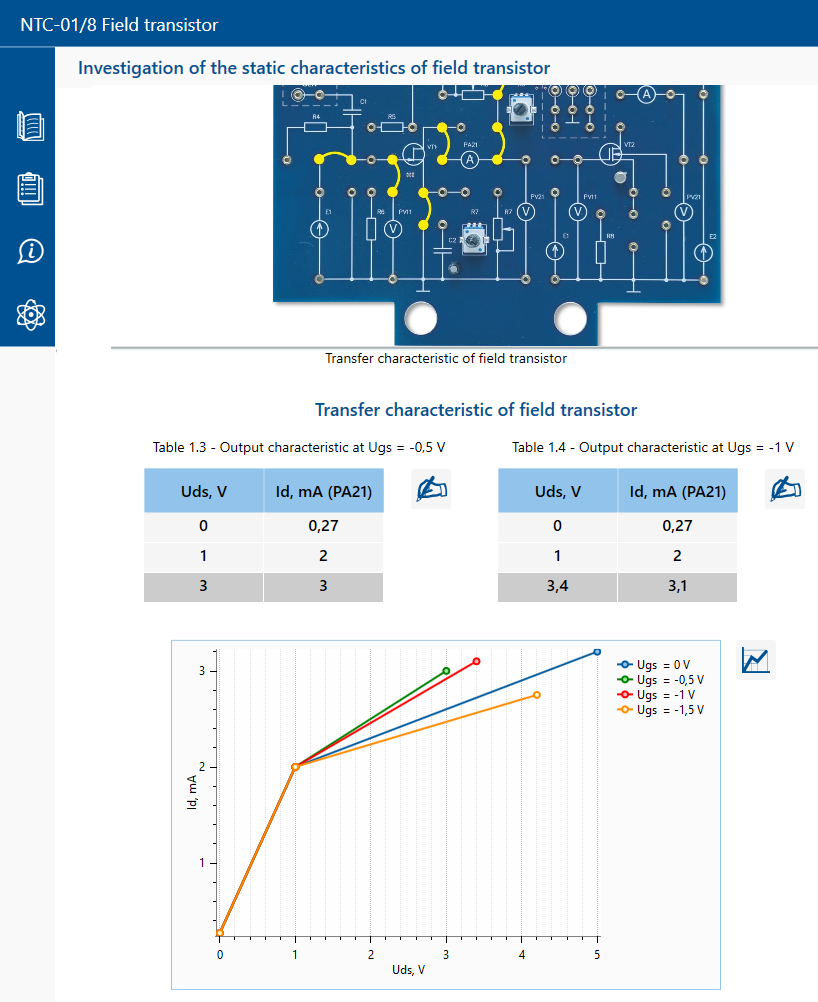 Measurements and experimental results
Entering data into tables, calculation and plotting of graphical dependencies during the experiment is performed automatically. A report is generated after the experiment
Test editor
The test editor allows to change the preliminary verification test made by the developer, as well as to create tests for each of the proposed experiments and assign a test mode for them: before the experiment for admission or after the experiment to verify topic mastery